New Year and new beginnings go hand in hand, but it is also a time for reflection. What better day to reflect on celebrations of the past than on New Year's Eve. What are your New Year's Eve traditions? Do you gather with friends and family at home? Do you ring in the New Year while wearing your dancing shoes? Or does the New Year come as you are sleeping in bed?
Whether you remember evenings at Peggy's Dance Hall or at Savannah Lodge, these pictures of celebrations in Innisfil span a century of good times, good will, and in some cases, good clothes!
Let's start off this party properly, with invitations, of course!
The Bachelor's Club of Cookstown hosted a dance in 1920 at Cookstown Town Hall, requesting gentlemen to pay $1.50.

In Bradford in 1907 the Arawana Club hosted a dance in December at the Loyal Orange Lodge Hall. Just like today, it was common for these halls and other spaces to be used for multiple purposes.
Let's not forget to fill out our dance cards!
Dance cards were historically used by a woman to mark down the names of the gentlemen she intended to dance with at a formal ball. The practice originated in the 18th century. As americanantiquarian.org reminds us, dance cards could be a beautiful souvenir to remember the evening by.
The right kind of music is the key to starting any celebration.
1942 Cookstown Old Boys Club Reunion saw the musical stylings of Walter Beatty on violin.
The 1930s saw some different entertainment in Innisfil. 

Left: Curly-Posen and his Jubilee Nighthawks played at the Minett's Point Pavillion in 1932

Right: 1931 Gilheeny All-Girl's Orchestra played at the Gilheeny Dance Hall that was once located beside the Cookstown Fairgrounds.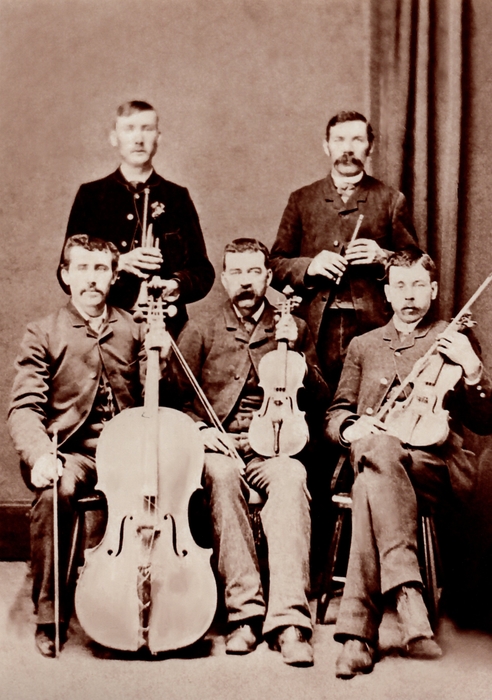 1866 photo of the Jack Orchestra, known as the Jack Quintette Club, Lefroy.
Now that the music is going, it's time to start the dancing!
From left to right, dancing in 1967, 1992 and 1985. Click the picturess for more information.
New Year's Eve at Gilford Hall.
From Our Stories to Your Stories, we are wishing you a happy, healthy and story-filled year!
Look back on your life and share a story with someone you care about and don't forget to help us share Our Stories!
Happy New Year!
1953, boys off to one side at the school dance in Bradford