When temperatures dip below the freezing mark as they have recently, outdoor recreation might be the farthest thing from your mind! But of course these sometimes unpleasant winter conditions can offer up a plethora of opportunities for fun on and near the lake!
In the winter, where there is water there is ice, and this always means there'll be at least a few intrepid souls who find time for a skate. Whether you have a modern pair of ice skates or the more traditional version that involved strapping a leather-and-blade contraption on your feet, there's fun to be found on ponds, your local arena, or even Lake Simcoe!
Here are a few of my favourite skating photos from the collection: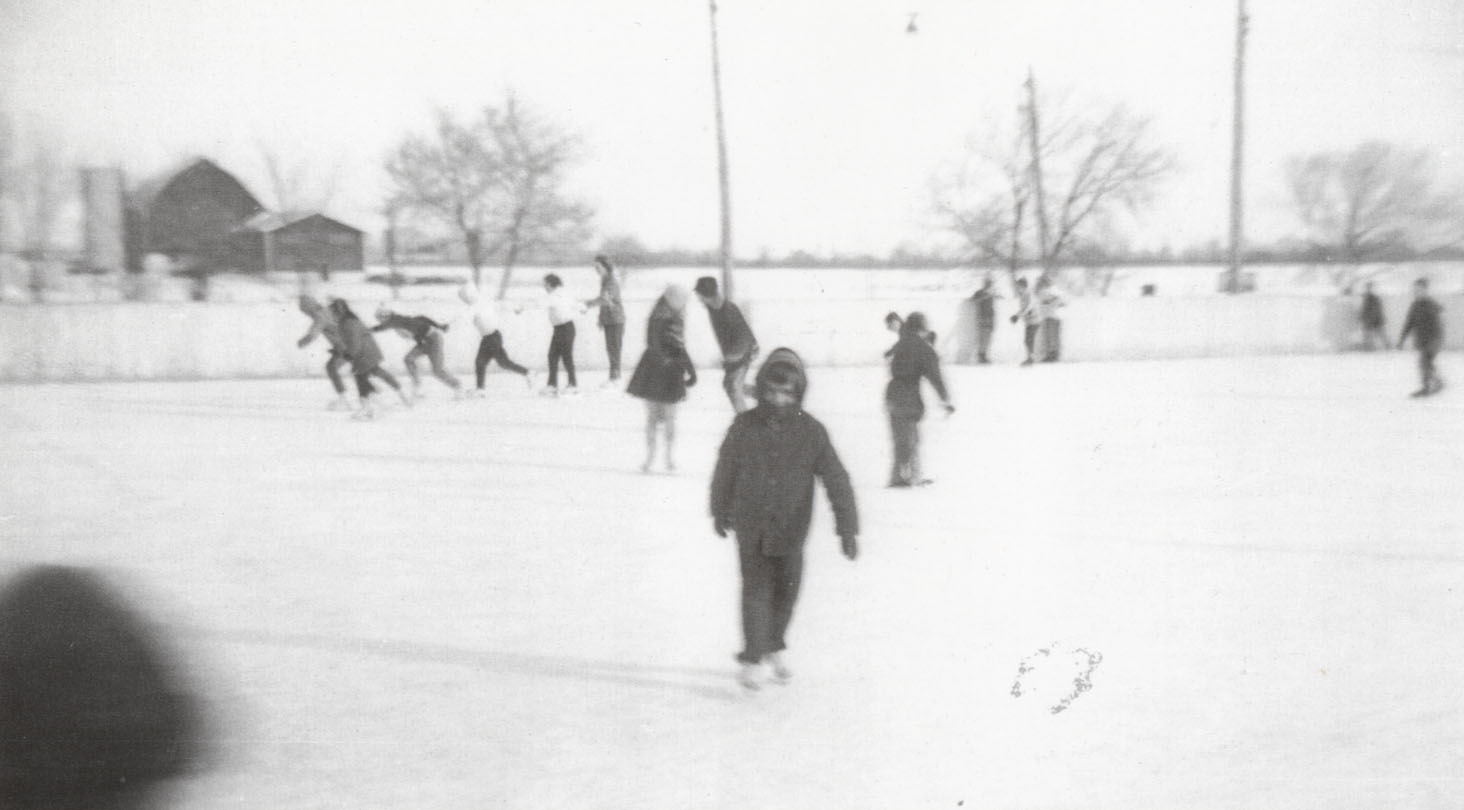 Anne Holcroft skating on the outdoor rink behind the Stroud School in 1964. The rink was located where a parking lot now exists north of the Stroud Arena.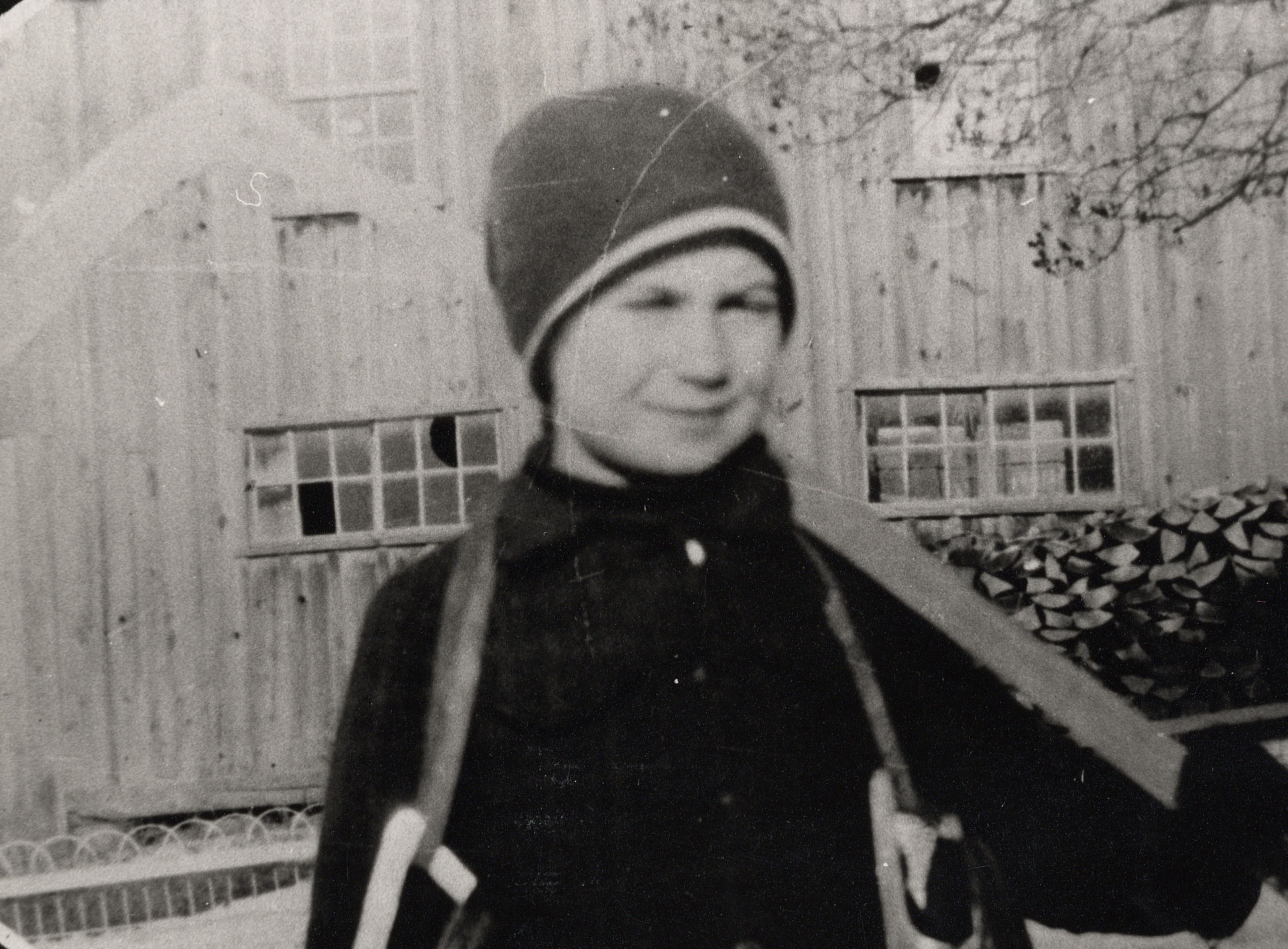 Clarence Sloan in front of R.W. Sloan Carriage Works and Paint Shop with a pair of skates.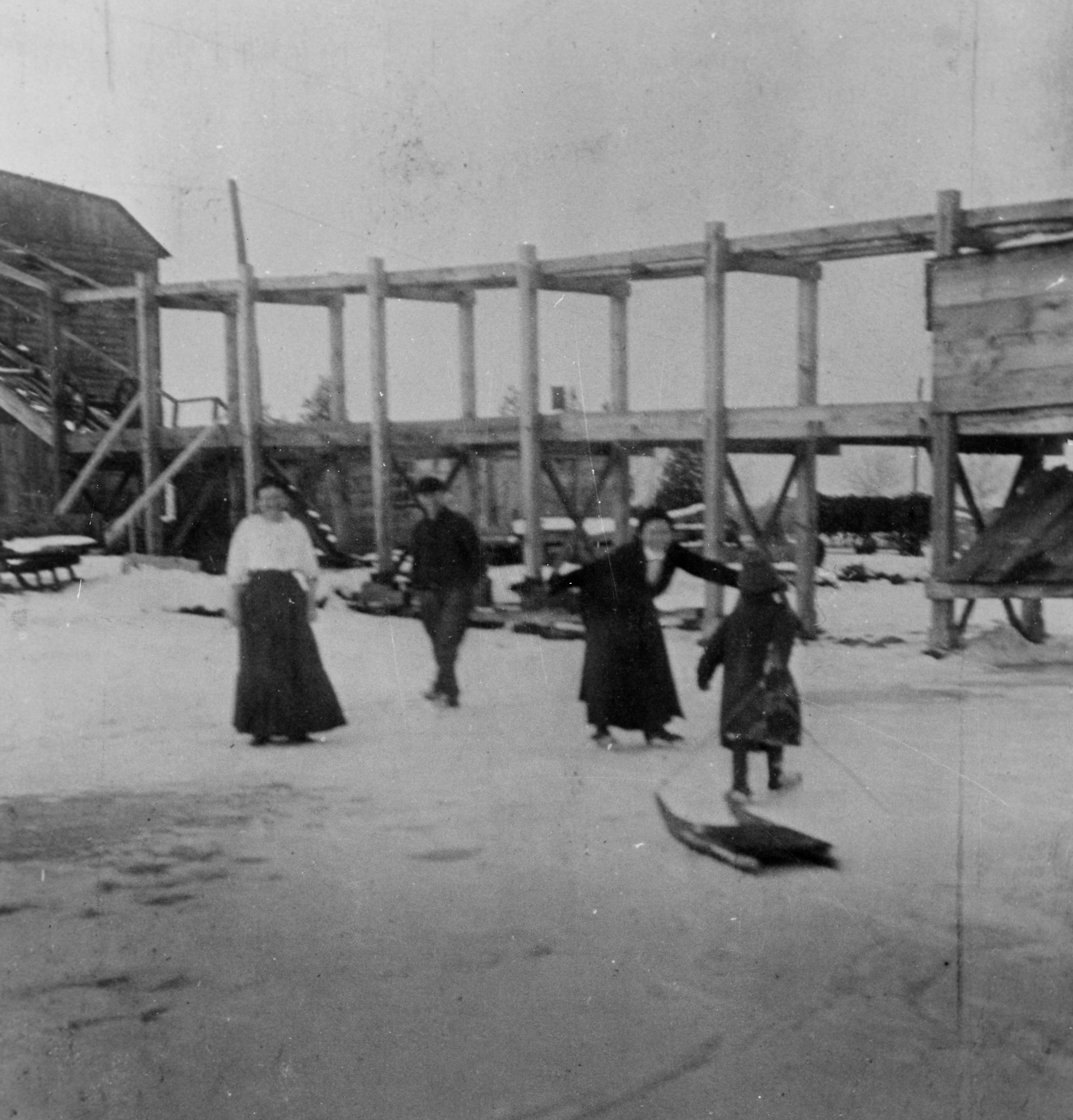 Skaters on Lake Simcoe at the foot of Arnold Street in Belle Ewart, with the Belle Ewart Ice Company's conveyor belt structure visible in the background.
Naturally, when you put slippery surfaces and sharp blades together, the memories aren't always sunny. In the book Skunks and Scholars, Leighton Slesser recalls the following:

"Early in the fall or winter after a real cold spell when Lake Simcoe froze over like glass, we went skating at the end of the Fourth Line. I also skated in the old skating rink next door to the curling rink and fell on my face, making my nose bleed badly." (p. 155)
---


Another great winter tradition on Lake Simcoe is ice fishing. Most of us are no stranger to looking out across the frozen lake and seeing the tiny huts dotting the ice as far as the eye can see. Whether your haul is big or small often doesn't matter – it's the tradition and experience that counts! 
This photo of ice fisherman Gordon Spring in the 1930s demonstrates just how small the fishing huts could be. They were typically brought to the bottom of the ninth concession by a team of horses on a sleigh, and then moved out onto the lake.
Ice fishers can be found on the lake from all of its surrounding areas, but not everyone can boast as much fame for their ice fishing prowess as Bill Lamb, lovingly referred to as "The Ice Man." Below are two clips of Herb Dietrich recalling his memories of Bill that are definitely worth a watch.
Bill Wright of Stroud recounts his chance first meeting with Bill Lamb out on the lake near Fox Island. Mr Lamb invited Bill and his brother Tom into his hut. "Between spits of tobaccy juice he showed us his equipment and told us all about trout sparing. He even pulled up his big twelve-tined spear he had filed out of a circular saw. With the weighted furl wooden handle, he had it all balanced and could throw it like a dart, often hitting trout that were chasing the decoy down fifteen or twenty feet. He would then retrieve it by hauling it up with a rope on the handle. When we were leaving a little while later he came out and kicked away a snow drift and showed us a nice trout he had got earlier in the day. After a few more spits of tobaccy he took us over to the other shanty and we met his fishing pal, Mr. Bill Fullerton, who used to come up and spend the winter fishing on the ice. We had just been shown the finer parts of ice fishing by Mr. Bill Lamb, a real well-known fisherman in the 1930s.
We learned how to get rid of the spear when the old game warden paid us a visit early in the winter before we had caught any fish to sell so that we could pay for our spearing license. And we learned how to retrieve our spear from the bottom of the lake after his visit.
Bill Lamb taught us how to take a bearing on the wind and come a couple of miles in off the lake in a blizzard that had come up when we were busy fishing in a little shanty that had no windows. We sure appreciated the friendly knock on the fish shanty door when a bad snowstorm came up and old Bill Lamb would say, "Reckon it's time to head for shore." We were ready to follow him in, with just a bearing on the wind plus a big splat of tobaccy juice here and there on the trail, placed there by Bill on the way out, as a guide." (p. 182-3)
---
Perhaps one of the most interesting, or speediest at the very least, lake activities was ice boating. This was a construction that acted on the same principles of a sailboat, but had three blades attached to allow a smooth glide across an icy surface. Below is a photo of Mr. and Mrs. Ross Sheldon on their homemade ice boat in 1937.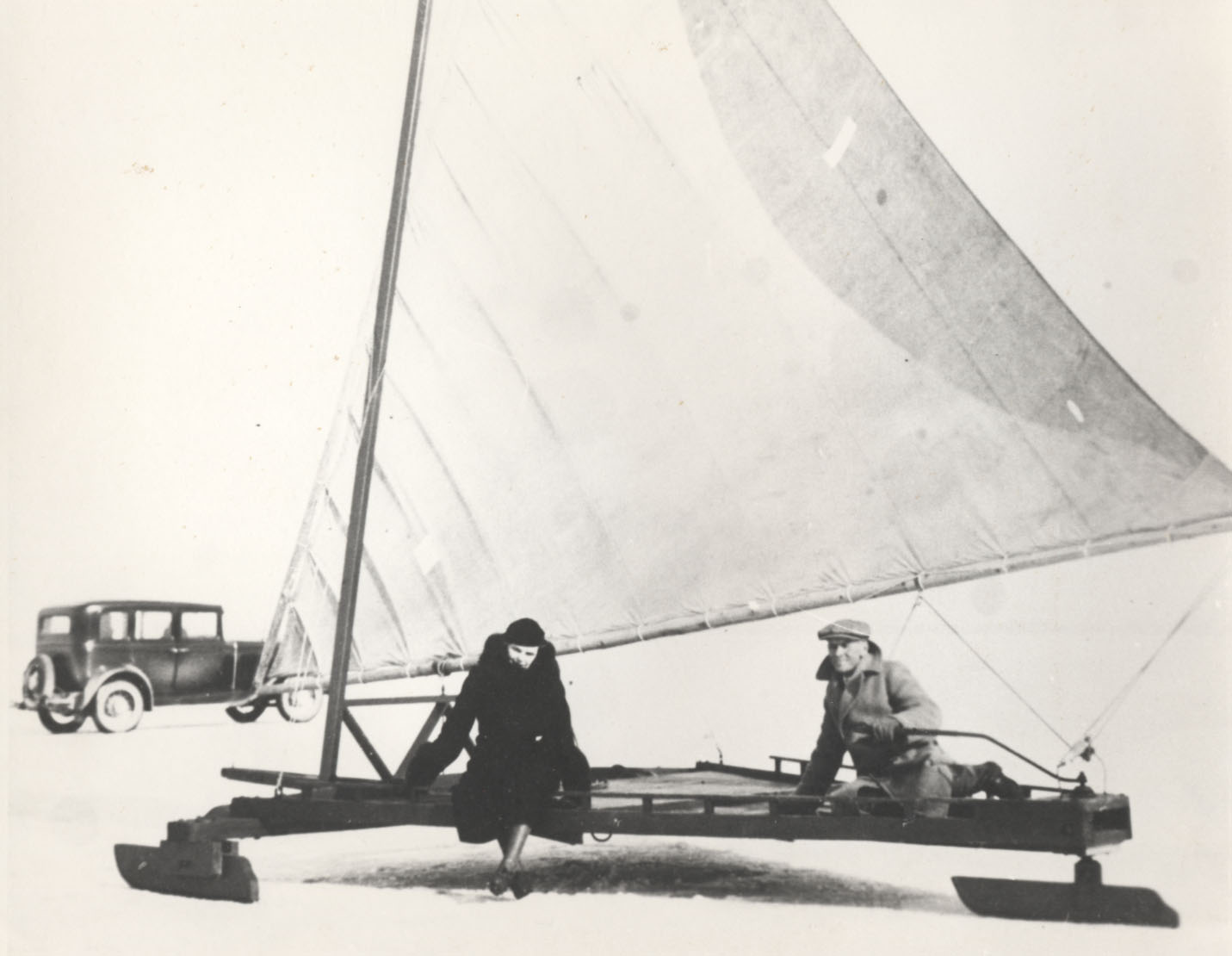 Exhilarating though it may be, ice boating had its own risks, like any activity on a frozen surface. Kay Weber (née Houston) of Lefroy remembers an experience with her brother, Bill. "The following winter the lake froze as usual and then had quite a covering of snow. Then there was a thaw and a great windstorm. The ice all broke up and drifted out. Soon it froze over again – just like a sheet of glass – beautiful. Bill had recently learned to run the iceboat, so again he got a wonderful idea. It would be a perfect day to sail over to Snake Island. This must have been a Saturday and I guess dad had gone to Lefroy. So we took the iceboat over to Snake Island on that beautiful glare ice with not one snowflake on it. The speed was so exciting with the west wind at our backs. We hardly felt the cold. Coming back wasn't quite so speedy as the wind was more against us than with us, but Bill knew how to tack. When we were more than half way home we noticed a person coming toward us on the slippery ice. As we got closer we recognized our dad and as we were even closer we noticed his face grim and ashen with fear. He had no idea we would take the iceboat out on that flimsy ice. I guess it was about two inches thick. We never did that again." (p. 171-3)
As long as you remember to take precautions and stay safe, the frozen ice of Lake Simcoe today still offers us a myriad of ways we can keep ourselves entertained in these long winter months!